Searching for Products and Creating Links 
This tutorial and video teach you how to search our database for products to promote. Follow these simple steps and you'll be on your way to monetizing as an Influencer in no time!
Tutorial Topics
1) Search for Products to Promote
2) Creating Product Link Modals
3) Monetizing Product Links
4) Watch the Product Search and Monetize Link Screencast
Start by thinking about the products you feel strongly about, ones that you've either used or have a genuine interest in, that fit your Influencer persona and you feel will spark your Followers' interest. Your searches can be really specific or start more broadly to find new things you like.
Not every product you use will be in the database, of course, because not every company utilizes Influencer Marketing or approaches it the same way, but with more than half a million products in the database, you're bound to find things that resonate with you!
Searching Our Database for Products to Promote
1a) To start searching for Products, Log In to the account you've previously created, then click the PRODUCTS dropdown in the top navigation.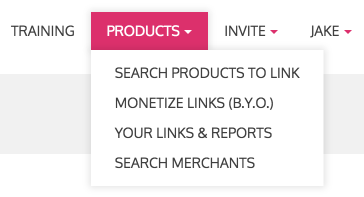 1b) Then click SEARCH PRODUCTS TO LINK and you'll be taken to the Product Search Page.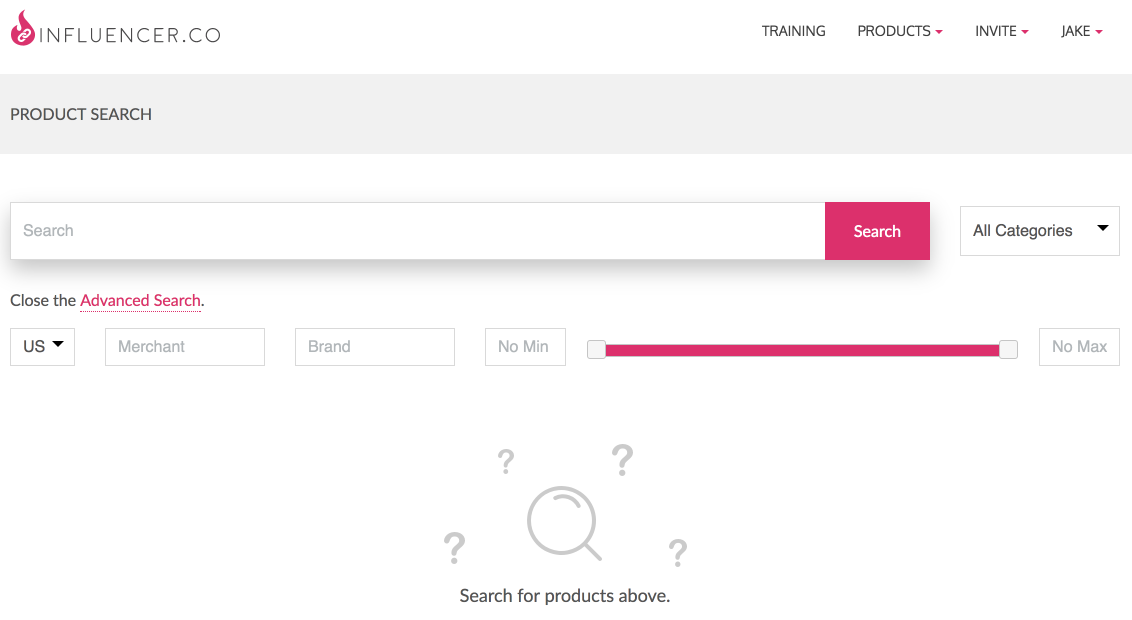 2a) From there, you can click the All Categories dropdown to the right of the magenta Search button to Browse by Category.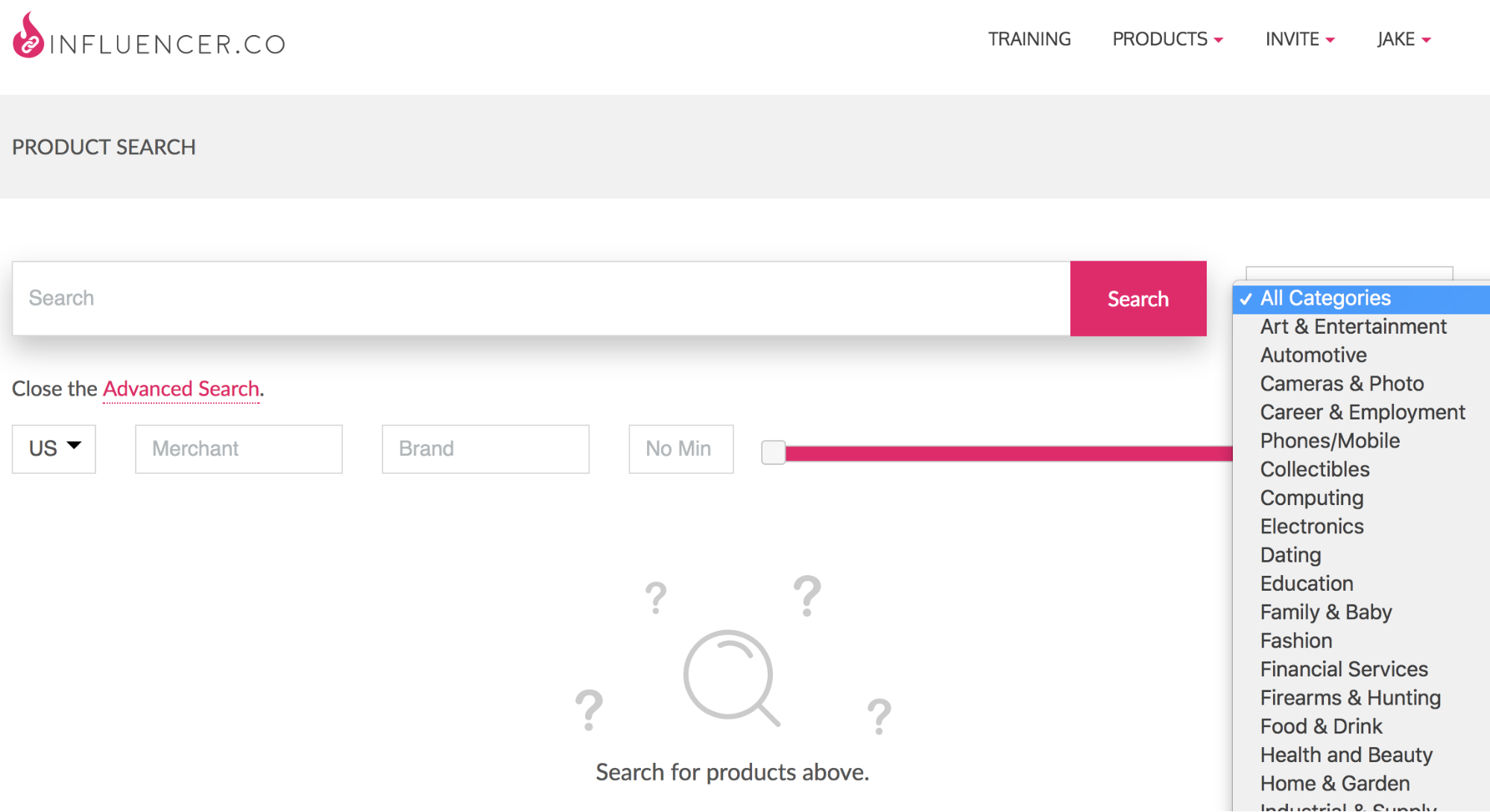 2b) … or type a product into the Search field for a General Search.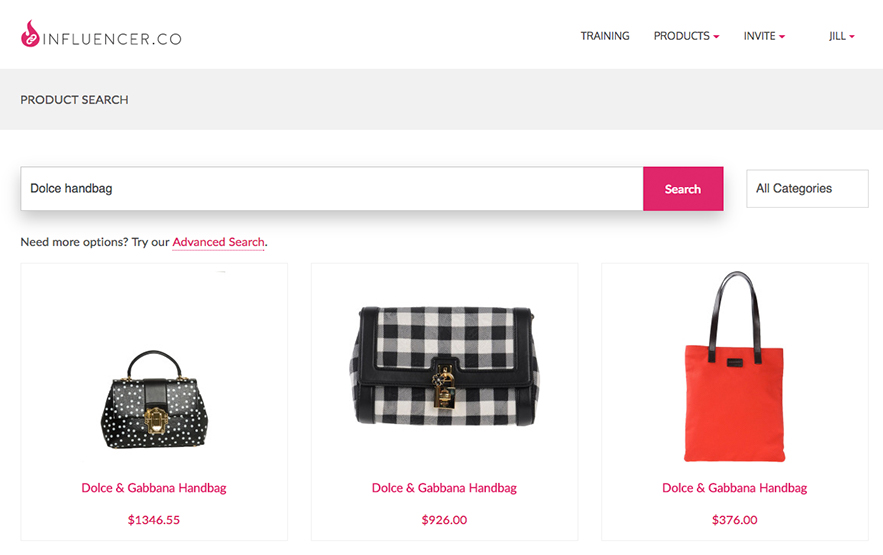 2c) … or use Advanced Search for more options, including Country, Merchant, Brand, and Cost.

3a) Clicking on any Product brings up its Create Product Link Modal.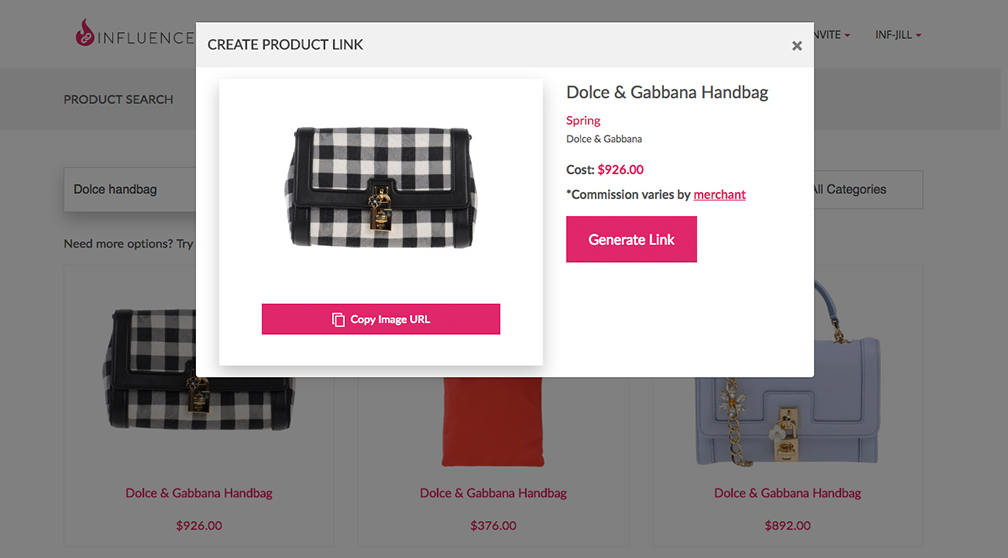 3b) Clicking on the Generate Link button will create a Custom Short Tracking Link for this Product that is specific to YOUR account, and automatically save it for you. You can get to it later by going to PRODUCTS > YOUR LINKS & REPORTS in the Top Navigation…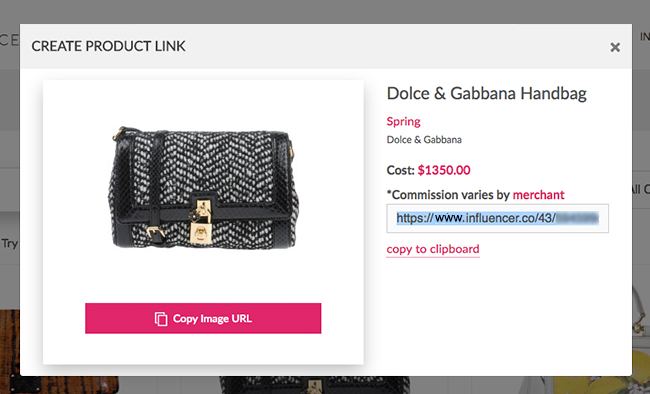 3c) … or click the Copy to Clipboard link now before you even close the Modal if you're ready to use it now. The following popup will appear, letting you know it's ready for Pasting (Command-V on a Mac, Control-V on a PC) into your next social post: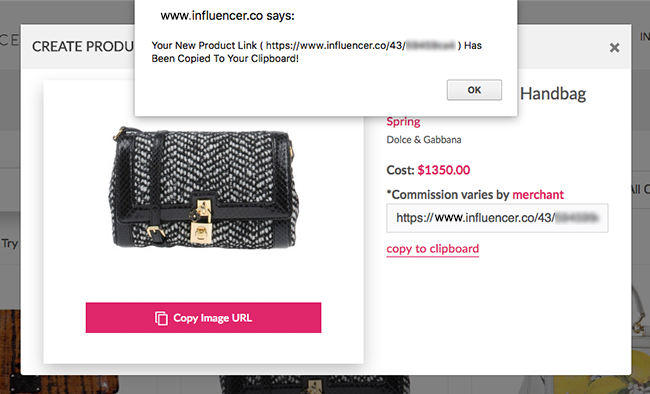 3d) You can also click Copy Image URL to grab the graphic for posting.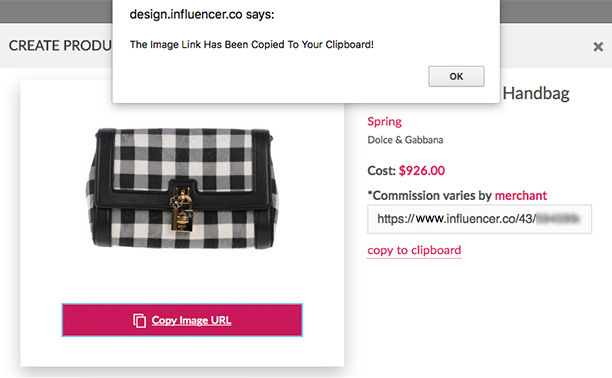 Monetize (Most) Product Links [Bring Your Own]
4a) You can search our product database for other products you've found. First, Log In and click Products in the header, then click Monetize Links (B.Y.O.) in the dropdown:

4b) You'll be taken to the Product URL Search Feature, where you can input the URL for the page where you found the product:

4c) We'll search our database and tell you if we carry that specific product. If we do have the product, you'll get a result like this: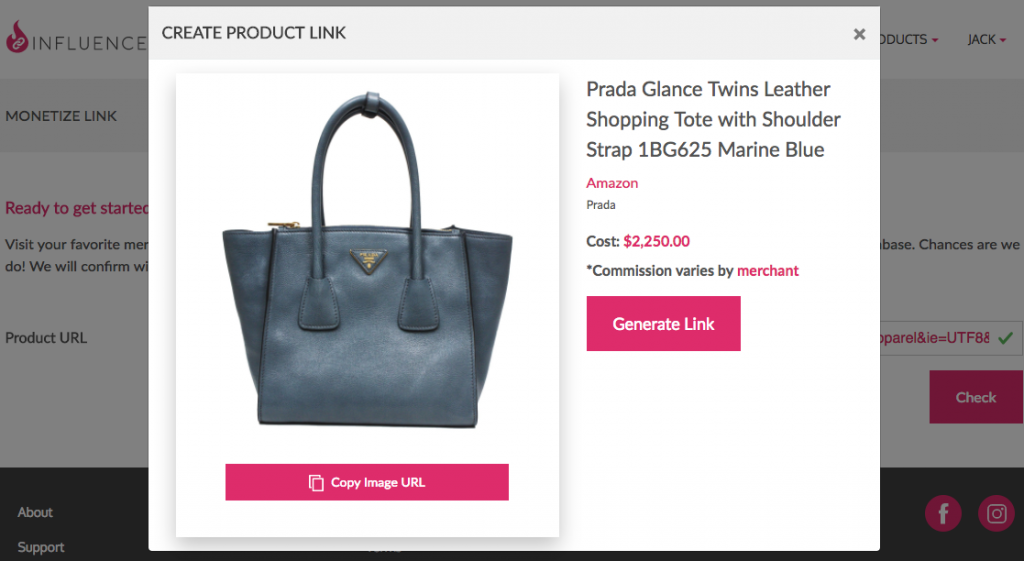 If we don't have it in our product database, you'll get a notification like this: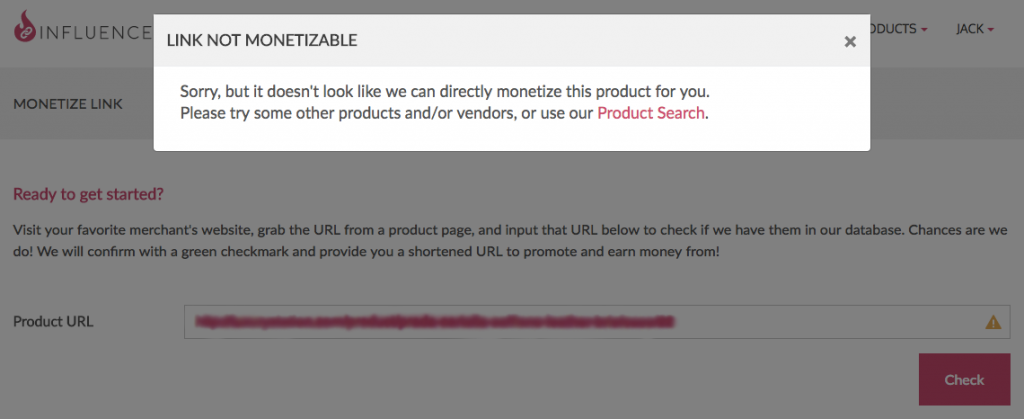 Don't worry if you get a Link Not Monetizable notification, we've got thousands and thousands of other products to choose from, so you're sure to find something that just right for you and your followers.
4d) From here, you can click on Generate Link to create a link for sharing with your followers (**If you're logged in as a Manager, you need to log yourself into the Influencer account you will be sharing the product on):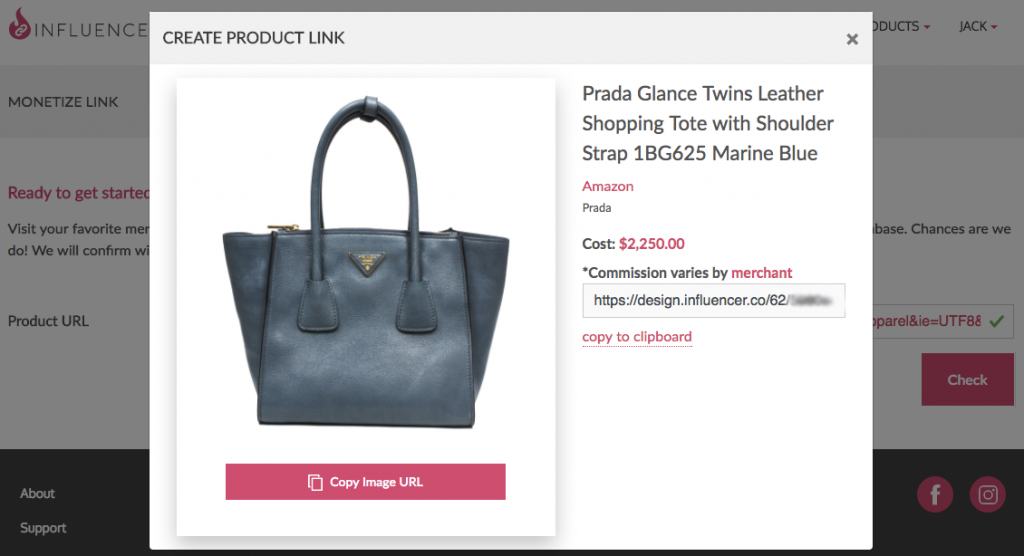 4e) From here, you can copy the link to your clipboard (as shown in step 3d), or copy it directly for use on your social channels. You can also copy the image to share. It's that easy!
Watch the Product Search and Monetize Link screencast for more detailed information.
Finished: Part IV – Linking and Reporting
On to: Part V – Creating and Viewing Reports